Nishtha Community Centre has facilities including a large workshop room and limited accommodation which can be used by like minded organisations for trainings etc. at a nominal daily charge. Food can be prepared for residential courses.
Volunteer doctors are needed to cover when Dr Barbara is unavailable or to hold specialist clinics. Must be fully qualified MD, English speakers, some medical experience and interest in alternative medical practices, particularly homeopathy and acupuncture. Knowledge of Hindi useful but not essential. Physiotherapists, nurses and special needs professionals are very welcome. Accommodation and meals will be provided.
Contact: Dr. Barbara: contact@nishtha-hp.org
In-Service Training Opportunities for Doctors
Nishtha offers a residential in-house training opportunity for advanced level medical students for a minimum period of one month. Trainees are required to work a normal daily schedule along with the doctors. An all-inclusive facility fee is charged. One year in advance booking is essential.
Click here for more information.
Limited opportunities for volunteers with something special to offer:
Youth education, library skills, computer training, web site or disaster management, and early learning and play are areas in which we can use help. We especially need volunteers who can help promote our Hindi language crèche teachers guide in the village crèches.
Volunteers are expected to work full hours and to contribute to their living and housing expenses.
We welcome you to help our work through funding particular projects:
We apologise for not being able to accept donations in kind because of the cost and effort involved in retrieving parcels.
Contribute to our Health Projects:
Destitute fund
Special needs fund
Outreach clinics & health education
Provision of water filters for remote schools & communities.
Or help us with our Community Centre programmes
Women's Programmes
Youth, culture & environment Programmes
Children's Programmes

Single women's programme running expenses
Disadvantaged girl student sponsorship fundWenlido (self defence) training
Women's awareness and personal development workshops
Women's agriculture trainings for self sustainability

Nishtha Youth Club sports programmes and ground development
Nishtha Culture Club music and dance training
Clean Green Village Programme
Computer centre training and equipment
Development of demonstration organic vegetable and herb farm

School Children's Nutrition Programme
School children's shoes or sweaters
Assistance for special needs children
Pre-school children's facility improvement
Childrens books and games for the Community Library fund
For information on costs of any of these projects e-mail: contact@nishtha-hp.org
---
Volunteer stories
Mathias Hansjorg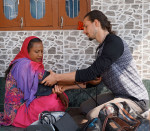 I am Mathias Hansjorg a medical student from Austria. I have just completed a five week internship at Nishtha during which I experienced a very special medical practice utilizing homeopathy, acupuncture and ayurveda alongside normal allopathy. I feel so honored to have had such a unique experience of rural Indian life through joining in with the daily work carried out by the Nishtha medical team.
My sincere thanks to Dr. Barbara and Dr. Kusum along with the full clinic staff.
Marianna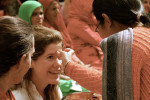 My name is Marianna and I am a medical student from Austria. I had the opportunity to spend the last two months at Nishtha. With their great support I could do research for my diploma thesis on the medical reasons for clay eating. Together with Tenzin Choekeyi as my translator we were very successful in gaining an insight in this topic and also raised awareness of it.