Nishtha is a Charitable Trust situated in Sidhbari, a small village in the Himalayan foothills of the North Indian state of Himachal Pradesh. The main objective for which the Trust has been established is to work for the benefit and development of society as a whole by improving the welfare of families with particular focus on women and children. This objective is served through activities in the fields of health, education and environment.
Our approach is to work alongside the local people for our mutual development and benefit. In this fast moving world in which major changes in our cultural perspective creates conflict and confusion we aim to encourage dialogue and learning through acknowledging individual and group knowledge and desire to live in harmony with each other and nature. Our approach is holistic and our philosophy is based on an integrated approach that is inclusive of physical, social and spiritual growth of people and nature.
Nishtha's founder and manager is Dr. Barbara Nath-Wiser a general practitioner from Vienna, Austria who has been living in Sidhbari since 1984. The health centre is dedicated to the memory of her late husband Krishan Nath Baba, who was a respected spiritual personality in the area and was very concerned about the well-being of the local people.
Nishtha Trust was set up in 1995 by Dr. Barbara with the help of 3 Trustees: local social activist Mrs. Monica Ghosh, retired reader in Psychology from Shimla university Dr. Kishwar Shirali and social activist Ms. Abha Bhaiya. After many years of service to the Trust and active contribution to the work of Nishtha, Kishwar resigned in 2008. The Trust is very grateful for her long-time valuable service and continuing involvement in our programmes.  Ms. Kamla Bhasin, feminist activist and founder of Sangat South Asia was appointed a trustee in August 2009.
In May 2010, Mrs. Ghosh who had served the Trust steadily and with great dedication passed away. Local resident Mrs. Soniya Sebastian has been her replacement trustee since 2010.
Radhika Saunik who recently moved into the area after a career in librarianship, was appointed a Trustee in May 2012.
Nishtha Trustees 2016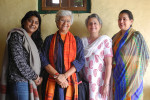 During our Trust meeting held on 5th May 2016 we were sad to say goodbye to Abha Bhaiya who has resigned as Nishtha's remaining founder Trustee, We will miss her but know she is just down the road  to consult whenever we need. At the same time we warmly welcomed Nayantara Singh Mankotia, a local Himachali who brings years of experience and dedication to education to our Trust.
Nishtha Trustees
Kamla Bhasin

Kamla has been actively engaged with issues related to development, education, gender and media since 1970. She is dedicated to building the capacity of young activists and networking between civil society organizations in South Asia. She has written and taught extensively on gender, women's empowerment, participatory and sustainable development, media and communication as well as producing a large number of songs, slogans, posters and banners for the women's movement and books for children.

Radhika Shaunik

Radhika was a Research Assistant at the French School of Far-Eastern Studies, Paris, where she was responsible for the South-Asian section of their research library and now works as a freelance researcher on women's issues. A passionate reader, she also promotes literacy through reading by either creating libraries, with associated programmes, in schools or community centres or helping existing learning centres to expand their activities.

Soniya Sebastian

Soniya is a young, active member of the local business community. Her extensive network of local connections and knowledge is of great value to the Trust.

Puja Anand

Puja Anand is an IIT trained electronics engineer specializing in creating computer-based training. She has worked in Delhi and Singapore, where she set up and worked at Knowledge Platform, an renowned international e-learning company, where she was CEO from 2006 to 2011. Puja returned to India in early 2013 to live with her mother in Himachal Pradesh and is currently working as an online learning consultant. While here, Puja has become involved with teaching spoken English to local kids, youth and and teachers.
Retired Trustees
Abha Bhaiya

Abha has been a prominent activist in the women's movements in India, South Asia and beyond for the past 40 years. Her major contribution has been in the field of feminist training methodologies. Along with Kamla Bhasin and Barbara Nath, she has set up Jagori Rural in Rakkar Village, a community based organization focusing on women's and youth empowerment along with an organic agriculture program.
Where We Are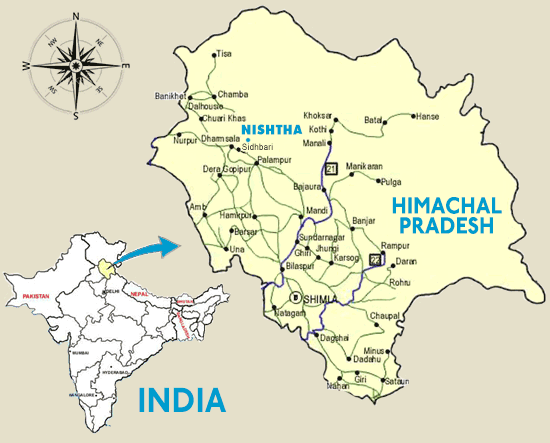 Nishtha Annual Reports
Nishtha Annual Report 2016-2017 [PDF – 7.3 MB]
Nishtha Annual Report 2015-2016 [PDF – 7.4 MB]
Nishtha Annual Report 2014-2015 [PDF – 8.5 MB]
Nishtha Annual Report 2013-2014 [PDF – 1.9 MB]
Nishtha Annual Report 2012-2013 [PDF – 2.8 MB]
Nishtha Annual Report 2011-2012 [PDF – 30 MB]
Nishtha Annual Report 2010-2011 [PDF – 1.2 MB]
Nishtha Annual Report 2009-2010 [PDF – 31 MB]
Nishtha Annual Report 2008-2009 [PDF – 38 MB]