Born
28th February 1949 in Linz, Austria
Education
1977: Graduated from the University of Vienna as Doctor of Medicine.
Professional Experience
1980-84: Internship University Hospital, Vienna
1984-89: Medical Superintendent at Major Somnat Memorial Charitable Hospital, Dadh, Distt. Kangra. H.P.
1989: Founded Krishan Nath Baba Memorial Charitable Trust Health Clinic
1998: Founded Nishtha Rural Health Education & Environment Project
Family & Home
1978: Marriage to Krishan Nath Baba – established home in Rakkar village, H. P.
2 children: Annapurna & Shankar
Special Interests
Alternative medicine: practicing homeopathy, acupuncture and herbal remedies.
Indian Classical Music: vocals & harmonium
Indian yoga
Community enhancement
Gardening & agriculture
Documentaries
1991 – Panorama: Gesundheitszentrum in Indien
2009 – Lebenslinien: Barbara, Die Frau Des Yogi
Awards
2004 – TwoWings Award
2015 – Goldenes Ehrenzeichen für Verdienste um die Republik Österreich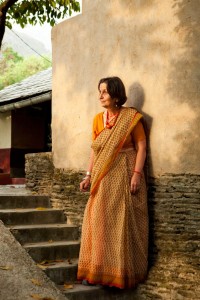 I was born in Lintz, Austria in 1949 and grew up there. When I graduated from High School I joined Vienna Medical University and graduated as a medical doctor in 1977. Prior to starting my internship in the University Hospital, I decided to travel and chose to come to India. At that time we were all fascinated by Indian culture and I decided to study yoga. In fact, when I got here I was delighted by Indian music and so joined the music school in Dharamsala run by Pandit Desh Bandu. He introduced me to my future husband, Baba Krishan Nath who lived in a very simple ashram in a nearby village and was a wonderful singer. I used to visit him to study singing and found myself entranced by Indian life and so stayed here for three years. My daughter Annapurna was born in Banares in 1979.
In the autumn of that same year I returned to Vienna with my little daughter and her father, Baba-ji. I took up my medical internship at the University hospital and continued my studies while he looked after the baby. I was able to gain a great deal of general medical experience working in the hospital which I knew would serve me well when we returned to India. With this in mind I also studied homeopathy and acupuncture under two of the most excellent teachers, Professor Dorcsi and Professor Bishko. My son, Shankar was born during this time.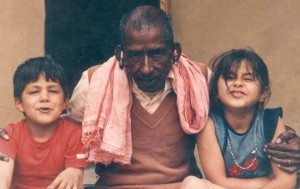 In 1984 I returned to India because Baba-ji was very ill and wanted to die in his home country. We had two little children and so established a home at his ashram in Rakkar and began to form a relationship with the local people. Realising how important it was to know the local language, I made efforts to study Hindi. My husband in fact died a year and a half after our return when Shankar was 5 and Annapurna was 7.
When I first arrived back in the village I worked three days a week at the Tibetan Delek Hospital in Dharamsala. That was very interesting and gave me a good insight into local diseases and the facilities available to treat them. Some time later I was invited to work as a doctor at Major Som Nath Memorial Charitable Clinic in Dadh, a village around 15 kilometres from Rakkar. This was more in line with what I really wanted to do, to work with the poorest local people who have very little access to health care and treatment. This clinic was set up and run by a rich industrialist's Trust and distributed medicines free of charge to the patients. I worked there steadily travelling backwards and forwards by local bus. Through this experience I learned a great deal about how to set up and run my own clinic and, by the end of five years, I felt it was time to do so.
However, taking that step on my own was a difficult one. Without any other means of support I found it hard to let go of my job, stressful though it had become due to the hours of daily travel by bus and problems with one of the other staff. I consulted a Tibetan lama who recommended that I have a Tara ritual done to ease obstacles. He warned me that these rituals are very powerful but things do not always work out as you imagine they will. A few days after the ritual, when I had already written my resignation letter and was about to hand it in, I received a letter asking me to leave. It so happened that on that very day my friend Felitzitas Fischer, who had a visitor from Germany with her, had arranged to pick me up from work so we could go for lunch together. When she arrived with a taxi we were able to fill it with all my things: coffee maker, books, medical equipment and so on and leave without looking back.
That visitor turned out to be a key person in Care, Austria, who, realising my situation and hopes to set up my own clinic put me in contact with Gerlinder Weingartner, a member of Action Regen who have become my long time sponsors and support agency in Austria. It also happened that during the last week I worked in Dadh, my Swedish friend Uffer, who is a professional photographer, came to the clinic with me and took some wonderful pictures of my work. These became the basis for my presentation to Action Regen and subsequent fund raising efforts. It is quite incredible how all these circumstances came together like this.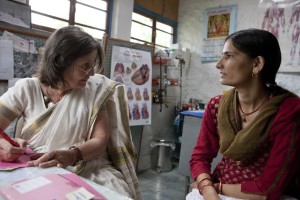 Within a few weeks I had contacted a few local people especially Mrs. Ghosh, a long time resident of the area, who helped me to register a Trust. At Christmas I came to Europe and met Gerlinder Weingertner and in one month raised 150 thousand rupees with which to set up my own clinic. Returning to Rakkar, I set about organising space and in February, Ram who had worked as dispenser in the Dadh clinic joined me and together we opened a small dispensary in my house.
We now operate from a bigger facility designed by Didi Contractor, a well-known innovative designer who works with the local masons and natural materials to create ecologically friendly buildings. We offer medical care free to the very poor and destitute and at nominal cost prices to those who can afford it. I work with Dr. Kusum Thapa, a trained Ayurvedic doctor from the local Nepali community who I have trained in allopathic medicine and acupuncture. She runs the clinic when I am in Europe on my bi- annual fund raising tours which remain the mainstay of our support. Ram, our dispenser is assisted by Suresh, a young man who used to work in the mines but has become a good clinic assistant in charge of the production of various herbal remedies including calendula ointment and cough linctus which we make ourselves.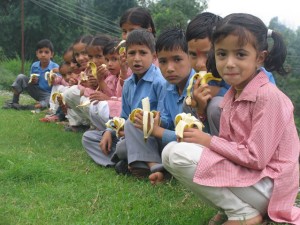 In response to the needs of the community, we have, for the past 10 years extended our work from the clinic to developing a range of ancillary programmes to reach out to the most vulnerable groups of people in the community who have special concerns and needs. These include the children at the local school which is a self selected catchment of the poorest and most deprived children of the area. As well as health care, we provide daily nutritional supplements in the form of fruit, vegetables and protein rich foods, we provide filtered drinking water, hand wash basins, school toilets and tuition classes for those about to take important exams. We also run a very active children's library and activity programme, including sports and computer training which the children flock to every afternoon.
As Rakkar becomes more developed and our clinic is established as a well-known centre I find myself drawn towards more remote and needy areas of the district. Villages up on the side of the mountain above Rakkar are still severely depressed and the schools and anganwaris (baby crèches) there have very poor facilities. Since 2013 we have extended our nutrition programme to cover these schools and we now provide them with book boxes as an extension of our Community Library programme. We look after 6 baby crèches, making sure they have the equipment they need and boxes of books and play materials.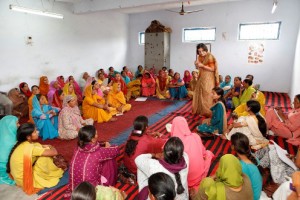 We have developed a strong and committed programme for single women in the wider area. The vast majority of the women contacted through this project are widows and the rest are unmarried, separated or, very occasionally, divorced. Our team of outreach workers organises regular meetings in the villages to discover and address their problems from legal and abuse issues to encouraging women to become involved in our programmes and activities. Even today village women, continue to have very less access to medical care and little understanding of their health problems. Therefore, we have launched a programme of health education in the villages along with primary consultation leading to serious and chronic cases being seen in Nishtha clinic or referred to specialised hospitals. A great deal can be done through passing on a little understanding of how the body works, what people can do to avoid getting sick and when and when not to use antibiotics.
As our work has grown so too have the people who have become a part of our Trust. I am indebted to many friends for their sustained friendship and support. Mrs Ghosh who sadly passed away, Dr. Kishwar Shirali, a retired professor of Psychology from Shimla University who brought a great deal of valuable experience and knowledge to the early years of the Trust. Abha Bhaiya, founder member of Jagori, a Womens Centre based in Delhi is also an essential friend and Trustee, source of invaluable assistance and inspiration. More recently our Trustees have grown to include Kamla Bhasin who is a remarkable activist, Soniya Sebastian, a strong local business woman and Radhika Shaunik who has great interest in the Children's literacy programmes.
In 2015 I had he great honour of being awarded the Austrian Golden Cross for Social Service by the President of Austria. It was conferred upon me for my work in this area by the Austrian Ambassador to India during our 20 year Anniversary of the Clinic here in Rakkar. I received this award not for myself but for my staff who have worked with me for so long to improve conditions and facilities for the local people.