Wenlido – women's self defence and empowerment training is an indispensible experience for both rural and urban women and girls to enable them to ensure their own safety.  They are extremely successful and the girls highly appreciate the experience but they are a lot of work and time consuming to organise. Because we do not reliably have Deepa as our second trainer we need to engage another trained trainer from outside to join Ravindra to give the trainings. Therefore we concentrated all our trainings this year into one period so we could invite Preeti up from Bangalore only once to reduce her travel expenses.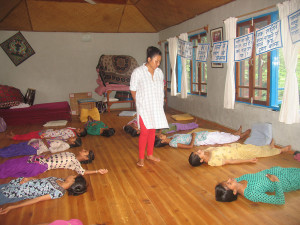 Ravindra and Deepa both attended the Wenlido Group Trainers Workshop for 5 days in May. It is very important for our trainers to keep connected with the larger group of Wenlido trainers in India who come together to discuss their programmes and issues related to them. This event was held after a long period of 7 years because it had been very difficult to find funding for such a workshop. Ravindra says: "This year, chatting on facebook and by e-mail, we all agreed to hold the workshop and pay our own expense. Ten trainers from different parts of India showed interest and so we were able to hold this important event. The participant's expenses were reduced because the Delhi based trainers, Divvya and Dipti put us up in their own homes. We only paid for our travel, meals and the meeting hall for the workshop. Nishtha paid my expenses."
It was suggested that the next Trainers Training would be held at Nishtha.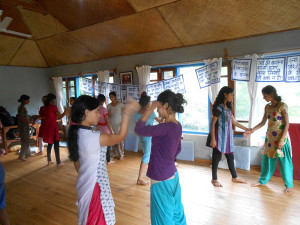 Four three-day residential Wenlido Trainings were held at Nishtha in July 2015 under the leadership of two eminent trainers Ravindra and Preeti. Whenever Nishtha organizes these basic trainings for young girls, they need at least two certified trainers Ravindra is available in our staff and Priti from Bangalore joined us for the duration. It is important to note how difficult it is to become a Wenlido trainer, the fact that both Ravindra and Deepa from Nishtha made it through the arduous training and selection process is remarkable and we are very proud of them!
Our staff worked together to mobilized girls from local schools, colleges, and the villages to form five groups for these trainings. It is never easy to persuade girl's families to send them for residential trainings but with great effort some families agreed and we were able to train four groups. One group of college girls cancelled at the last minute because their college admission schedule changed suddenly.
"A proper training schedule, starting in the morning at 8:30 am and continuing until late at night with a short interval including tea time and lunch is maintained. In every training the trainers did introductory sessions, review of previous sessions, practice session and group discussions. During the training sessions the trainers focused on every individual watching how they are reacting and responding, according to that they helped those participants as a mentor or friend. Trainers showed them how to control aggression, how to breathe deeply when you are depressed, how to use their power in a smart way, both physically and mentally, why they have to say "NO" to violence, misdeeds and teasing. This NO should be 200%, 100 for us and 100 for them. In this way they learned how to calm their mind and be agile in their body in adverse situations."
Looking at all the workshops, the trainers found a big difference between the first and the other groups. The first group was girls from our local area who had no shyness and were very enthusiastic throughout the training, According to Ravindra, it's all due to Nishtha's program – our local girls have had all the benefits of Nishtha's community centre programmes which the others haven't had. For most of the girls in the following 3 groups it was their first experience of Nishtha and of a residential training. It is therefore not surprising that girls felt uncomfortable and shy. At least they gained something from here which would help them in future. We were satisfied with the response of the participants many of whom appealed to do this training again but we are concerned about those participants who are soon to get married as they seem so unprepared and will never get chance to do this again because in villages girls lives totally change after marriage.