Health Clinic
The primary focus of our work has been running the daily clinic along with a small in-patient's facility. The majority of our patients are the very poor from labouring and farming families. Many are widows or elderly people who depend on us for medical care.
We offer consultations and medicines free to the very poor and destitute and at nominal cost prices to those who can afford them. Our approach is holistic and patients are diagnosed and treated utilising the disciplines of Allopathy, Homeopathy, Ayurveda and Acupuncture as appropriate for each individual patient. Serious cases are referred to the nearest specialist facility or to the Zonal hospital along with our vehicle and assistants if needed.
Until recently we have been seeing up to 50 patients a day but now, due to the National Rural Employment Guarantee Scheme people have money in their pockets, but very little time so there are fewer patients coming for consultations. Instead they go to the local Anganwaris – baby crèches in the villages where they can get pain killers, pregnancy tests and iron and calcium supplements or buy quick fix medications from the local shops. As a result, since 2008 we have seen a significant drop in the number of patients attending our daily clinic. However, increasing numbers of the patients who come to us are in more desperate need of help than those we had before and many come from further afield. They are increasingly those who could not find help in other facilities or have received confusing or ineffective treatments elsewhere. People come to us from far and say 'you are my last hope'. It is therefore our responsibility to give them as much time and attention as we can to try to help them.
Our Facilities and Staff
Nishtha Health Centre is a welcoming medical facility designed by Didi Contractor, an American born artist and designer who has been resident in India since 1952. Her philosophy is to draw on traditional techniques and materials as much as possible enhancing them with ecologically appropriate modern building technology wherever necessary. Local labour were employed in the construction ensuring that the construction process was an interactive event between the organisation and the local community and that our intrusion on the land was as gentle and accommodating of the locality as possible.
Nishtha Clinic Staff
In Patients Facility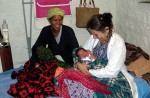 Our small in-patients facility, augmented by the special needs accommodation in the community centre room, provides beds for emergency cases, sick people who have come from far away to rest under observation and during water borne epidemics when first line treatment is crucial. We can function as a hospice for destitute or terminal patients and as a refuge for women in need.
---
Assistance for children with special needs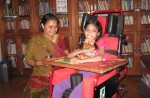 Nishtha extends special services to children with disabilities to ensure they get the appropriate services and attention they need. Two local children with cerbebral palsy have been provided with wheelchairs and are assisted to attend a nearby physiotherapy and facility for children with disabilities on a regular basis. They and their carers receive ongoing support and help with feeding and other issues as they arise. Children with hearing and other difficulties are also cared for.
---
Health Education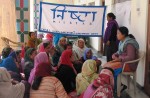 Regular health awareness is carried out for the clinic staff and groups of local people by our doctors and visiting facilitators. Workshops, seminars, awareness raising fetes and camps are held whenever possible to ensure that people know important facts about their bodies, prevalent diseases and how to increase their ability to manage family crises. The clinic also provides a facility for medical programmes such as dental, eye and gynecological camps run by visiting specialists.
---
Outreach Clinics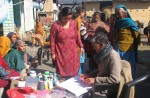 Seeing the need for village people to understand their medical issues and what medical options are available to them since 2011 we have been extending our reach into the more remote villages where women especially continue to have less access to medical care. Twice a week our clinic team packs up and drives to remote villages in the areas covered by our Single Women's programme. Our programme aims to give health education with primary consultation for a limited number of needy patients. Serious and chronic cases are referred to the Nishtha clinic or specialised hospitals. A great deal can be done through passing on a little understanding of how the body works, what people can do to avoid getting sick and when and when not to use antibiotics.
---
Herbal Medicines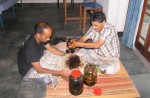 We have an active programme to make medicines from locally grown herbs. We make an effective cough mixture from plantain, Calendula ointmen from flowers grown in the clinic garden mixed with beeswax. Trifla, a powder for digestive ailments is made from three tree seeds: hara, bera and amla and geloi (a creeper plant) is used for blood production. A popular treatment for constipation is made from jamun, banana and mango seed and a massage oil for joint pain from camphor oil, datura leaves, garlic and other ingredients all boiled together.
---
Medical volunteers and Interns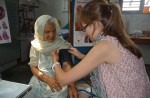 We are regularly joined in the clinic by medical interns and volunteer doctors who bring with them valuable new knowledge and extra pairs of hands! We are able to offer interns a valuable experience of holistic primary health care and in return they are a great help to us in the clinics and assisting keeping good records of our pharmacy. Volunteer doctors and visiting consultants are very welcome to assist us in keeping up the standard of our practice and developing new fields.
---
School Nutrition Programme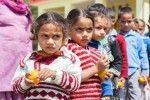 Child nutrition is a crucial issue which effects growth, performance in school and future opportunities for children. In India, around 46 per cent of all children below the age of three are too small for their age, 47 per cent are underweight and at least 16 per cent are wasted. Many of these children are severely malnourished. In our local area we can see this is true – even when parents are earning, the cost of food is increasing so rapidly that child nutrition suffers. Malnourishment effects children's disease resistance and causes them to under achieve in school.
Integral to our work to upgrade the health of the village, since 1998 we have been running a school nutrition programme which continues to be very successful in the village school. Nishtha augments the very basic meal provided by the Government by providing oil or ghee as a cooking medium, some spices and extra dals and beans but particularly a good range of nutritious vegetables and fruits for the children. The result in the Rakkar school is evident and the children there are growing well and the standard of the school has improved. As more children in the local area are being drawn to Private schools which off better facilities and study in English from an early age Nishtha is now turning towards the less endowed mountain communities on the mountain behind us adopting a small primary school called Samlekanath and the school in the village of Chatwan which has 65 children plus a baby crèche. Being more remote, these schools have less access to supplies and are therefore more in need of help.
---
Combating Water Borne Disease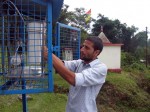 Filtered drinking water is available from the clinic from three filtration and purification systems set up at strategic points in the village and in the school. They each provide 500 litres of clean water every 24 hours. Tapping points are provided from which water is collected by the children every evening and taken to their homes. In 2012 two more systems have been installed near the remote mountain schools we now visit weekly. Each spring, to avoid the otherwise inevitable gastro-intestinal epidemics we conduct house to house awareness campaigns to remind people that the piped water comes directly from the river and cannot be relied upon. We also work to inform people about hygiene and flies, especially in homes where there are young children.
---